About Us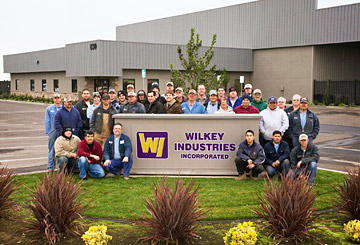 Since 1993, Wilkey Industries (WI) has specialized in providing innovative solutions through design, fabrication and installation of processing equipment in agricultural, industrial and manufacturing facilities.
WI has improved the performance of many processing facilities throughout the state in the areas of product processing, conveyance and separation, air filtration and emissions containment, equipment placement and plant layout and design.
We pride ourselves on experience and it shows! With nearly 50 employees, 120+ years of cumulative experience, and a 40,000 square foot facility, WI can work with you to meet your specific processing needs.
How We Work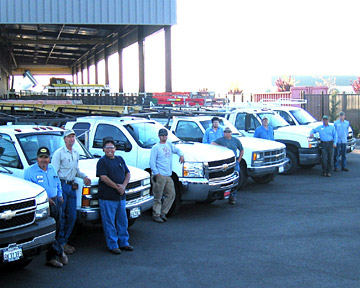 Wilkey Industries, Inc. (WI) offers a strong foundation of experience, a team of extraordinarily talented personnel and a steadfast commitment to service excellence. WI has successfully coordinated work with owners, engineers and contractors to achieve project goals, and whenever needed, extending our support to cover design-build requirements.
Mission Statement
Wilkey Industries, Inc. (WI) provides custom designed and fabricated metal products to a wide variety of customers. WI adheres to the highest standards of honesty, quality and value.
Quality Policy
Our quality policy is achieved by the meeting and exceeding industry standards and customer expectations. We pay thorough attention to product design, quality requirements, customer service and craftsmanship.
Safety Statement
Wilkey Industries, Inc. (WI) has lowered our workers compensation insurance rate to a very desirable level as a result of our strong safety training and awareness program. Weekly safety meetings are held, both in the shop and in the field. WI employees adhere to the "Customers in Plant" safety program, as well as our own.
We've gone GREEN!

Wilkey Industries has gone GREEN! We recently installed 406 solar panels on our roof and are now able to offset approximately 70% of our own power usage. It saves money and is good for the environment by generating clean energy.
If you're interested in saving money and/or "going green", we'd love to talk with you. Contact Jack Wilkey, a representative for Ambassador Energy Ÿ • (209) 667-8842 •Ÿ www.AmbassadorEnergy.com