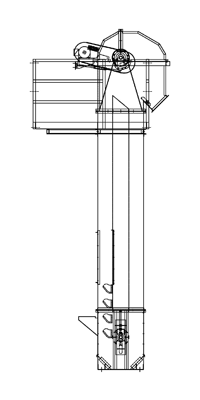 Conveyance Equipment
Bucket Elevators
Improve your Processing Operation with
Bucket Elevators From Wilkey Industries
Wilkey Industries designs and fabricates standard and high capacity bucket elevators to meet your processing needs.
Features include: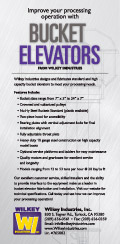 Bucket sizes range from 7" x 5" to 24" x 7"
Crowned and vulcanized pulleys
Nu-Hy Steel Buckets Standard (plastic available)
Two-piece hood for accessibility
Bearing plates with vertical adjustment bolts for final installation alignment
Fully adjustable throat plate
Heavy duty 10 gauge steel construction on high capacity model boots
Optional service platforms and ladders for easy maintenance
Quality motors and gearboxes for excellent service and longevity
Models ranging from 12 to 53 tons per hour @ 20 lbs/cu ft
Our excellent customer service, skilled installers, and the ability to provide interface to the equipment, make us a leader in bucket elevator fabrication and installation.
Call today and see how we can improve your processing operation!
Bucket Elevator Size Chart:
SIZE
MODEL
INLET
HT (IN)
INLET L/W
(IN x IN)
BELT SPEED
(FPM)
BUCKET
SIZE
BUCKET SPACING
CL (IN)
UNIT CAPACITY
(FT3/HR)
12
E 1205
32
10 X 8
198
9 X 5
9
1184
12
E 1206
32
10 X 8
198
9 X 6
9
1694
14
E 1405
32
10 X 10
198
11 x 5
9
1447
14
E 1406
32
10 X 10
198
11 x 6
9
2076
17
E 1705
44
16 x 13
197
14 x 5
9
1832
17
E 1706
44
16 x 13
197
14 x 6
9
2632
17
E 1707
44
16 x 13
197
14 x 7
9
3664
20
E 2005
44
16 X 15
197
16 X 5
9
2094
20
E 2006
44
16 X 15
197
16 X 6
9
3005
20
E 2007
44
16 X 15
197
16 X 7
9
4185
24
E 2406
44
16 X 19
197
20 x 6
9
3760
24
E 2407
44
16 X 19
197
20 x 7
9
5241
---
| | | |
| --- | --- | --- |
| Hull Auger | Hull Auger Conveyance System | Hull Auger Conveyance System |
| | | |
| --- | --- | --- |
| Pit Auger | Elevator Replacement at Grain Mill | Conveyance Equipment |
| | | |
| --- | --- | --- |
| Conveyance Equipment | Conveyance Equipment | Built & Installed Belt Conveyors |